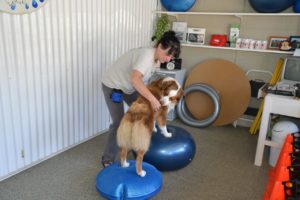 Conditioning sessions utilize equipment similar to human physio-balls, balance discs and other tools to increase core strength and balance for canines.
The exercises and equipment can be helpful for mobility challenged dogs, geriatric dogs, sporting and working dogs. Many injuries result from weakness and overuse/misuse of weak areas.
J Linn strives to make the sessions fun and comfortable for the dogs she works with as well as informative for their guardians. Each session is individualized specifically for the highest level of health, strength and well-being.