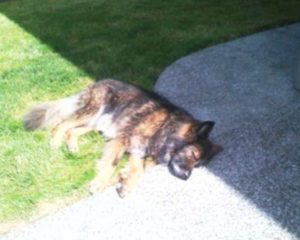 Duke takes the plunge
Our German Shepherd, Duke, started showing signs of hip dysplasia in his left hip about 4 years ago. His usual mile long walks turned into 6 blocks and then a few blocks. 2 1/2 years ago, we decided to give hydrotherapy a try not having much to lose since it seemed that Duke was aging faster and slowing down too quickly.
We called SplashDog and another "spa" in the area. SplashDog seemed to care more about Duke and his issues so we took the plunge and came in for a test swim, not knowing what to expect.
Duke got to choose a toy from the toy basket and took to the warm water with a smile on his face. His therapist, J Linn, immediately found his sore and tight muscles and joints and worked him over between laps. The look on his face was the same look that's on my wife's face after a massage. I figured he'd sleep for a week but it only took Duke a day to recover from the massage . The result was a revived new dog. Old Duke was gone and within a couple weeks we were back to 6 blocks on the walk and we even had several neighbors and passing cars pull over to tell us he looked and walked so much better. We were thrilled and Duke was doing great.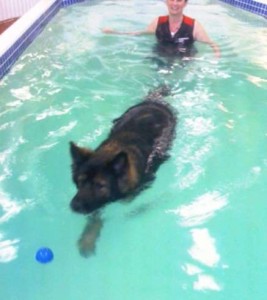 It's been 2 1/2 years since we first went to SplashDog; Duke passed the 12 year mark (considered old for his breed and size by our Vet) and he still comes to SplashDog most every week. When we miss a week, it's noticeable in his step and he pouts all week.
I recommend SplashDog for all dogs in need or any dog that needs a little pampering and TLC. I honestly don't think we'd still have Duke around without the benefits of his therapy.
J Linn is a licensed massage therapist (people too). She is also extremely knowledgeable and active in the Seattle canine community. But it's not really my opinion of her that matters….it's Duke's. Thank you J Linn.
Steve, Suzy and Duke Hubner
Please follow and like us: