Every Dog's Happy Place
By, Leigh Anne Hardy LMP, SAMP, LAMP
It is a New Year and a good time to review all the SplashDog services we provide for the well-being of your furry companion. Our love of dogs and their health is what drives all of us at SplashDog to give the best care we can.
Warm Water Therapy: This is a great service for all dogs, whether they love the water or not. During these sessions our therapists perform massage, range of motion, and swimming. Each session is individualized for each dog's particular needs. We help with a wide range of conditions such as arthritis, spinal issues, knee issues, hip issues, pre- and post surgeries, neurological issues, elbow disorders, muscle strains, muscle spasms, joint pain, mystery lameness, etc. (See the benefits of swimming under Swimming and Swim Lessons and Massage under Massage.)
Assisted Swimming, Self Swimming, and Swim Lessons: Swimming is an excellent form of exercise for your dog. Here are just a few benefits: No impact on the joints; helps burn calories, builds endurance and increases stamina. For dogs who have extra energy this is a great way to burn some of that energy. A benefit to having your dog take swim lessons is to let you know how well your dog swims. At SplashDog we help the dog with their swimming form, boost their confidence, and help them enjoy water. We work with dogs of all ages. This is a great way to have your dog introduced to water in a individual private session with an experienced person.
Massage: We perform massage on land and in the water (see Warm Water Therapy). Massage has a lot of benefits: Reduces anxiety, aids digestive disorders, increases relaxation, reduces myofascial pain, reduces pain from soft tissue strains, spasms or injuries, reduces pain from sports injuries, can help a nervous dog accept touch, help with sleep, may ease cancer discomfort, increase circulation and much more.
Reiki: Reiki is a wonderful gentle hands-on energy technique that aids in relief from ailments as well as a way to help provide stress release. Reiki works on different many levels and aids in stress reduction and relaxation, which triggers the immune system, aids in better sleep, improves and maintains health, and it balances the mind and emotions.
Acupressure: Acupressure can help to improve the quality of life of your older dog while help calm your puppy. Acupressure can help relieve pain and discomfort, strengthen the immune system, reduce inflammation and swelling, increase relaxation, increase circulation, remove toxins from the body and decrease anxiety.
Canine Conditioning: Canine conditioning on specialized equipment can be helpful for mobility challenged dogs, geriatric dogs, sporting and working dogs, as well as help puppies and young dogs focus and burn energy. Physical conditioning helps improve balance, body awareness, strength, and focus. Dogs who have been released from Veterinary Physical Therapy for injuries, mobility issues, or post surgery can also benefit from this physical conditioning.
Assisted, Private Gym Play or Drop-In Open Gym: Whether the weather conditions outside are not ideal or you want a place to bring your dog to play where there are no other dogs (or up to 3 dogs that know each other) our gym is the place!. You can either have one of our staff play with your dogs or you can have a private session where you play/exercise with your dog(s). We offer a Drop-In Open Gym on Monday's from 1:00pm-6:00pm on a first come, first serve basis. Other days and times are by appointment.
Acupuncture: Dr Cynthia Glover DVM, MS, CVA of LunarPoodle Veterinary Services offers Acupuncture at SplashDog. Acupuncture offers a wide range of benefits for your dog including, but not limited to pain management, skin issues, allergies/asthma, gastrointestinal issues, kidney issues, immune system support, and much more.
Gym Space Rental: Do you need an indoor space for a meeting, run a puppy playgroup, conduct a training class, have an event, or anything else? Rent our gym space. Contact SplashDog for pricing.
Now that you know all the current services, your dog wants to know when you will be taking them here.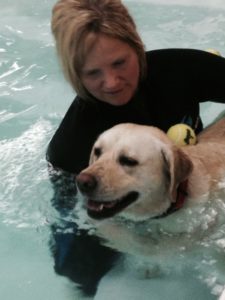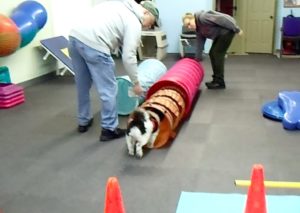 Please follow and like us: