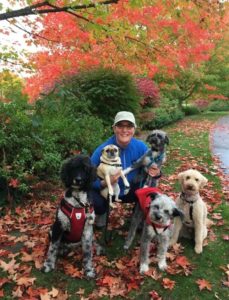 Gretchen with Oscar, Dezi, and Rubin on the right and two good friends, Monty and Theo on the left.
Growing up, Gretchen had a very special cat named J.P. He lived to be 17 years old and the two of them were inseparable. A cat person from an early age, she was miffed when her father brought home a dog — a young, female Saluki hound named Spica. But slowly, as only dogs can do, Spica wormed her way into Gretchen's bed, cautiously sleeping next to J.P. who slept with one eye open. While the cat and dog never completely made peace, Spica was the first dog Gretchen fell in love with, though certainly not the last!
As an adult, Gretchen always wanted to work with animals, but found herself drawn to a career in teaching. Still, the idea of spending time with dogs was always in the back of her mind and, after 23 years of teaching middle school, she walked away from the classroom and started her own dog walking and pet sitting service — Triple Dog Pet Services — in 2008. In 2010, she enrolled in the massage program at the Northwest School of Animal Massage and received her Washington State Small Animal Massage license in 2011.
During this time she worked as a swim therapist and found herself drawn to Traditional Chinese Medicine (TCM). She enrolled in the Tallgrass Institute of Animal Acupressure where she completed her acupressure certification in 2013. In addition, she has studied cranial/sacral work and Functional Indirect Techniques with Patricia Kortekaas in Eugene, Oregon. She is interested in continuing her studies with Patricia, but also pursuing her interests in other modalities including acupressure massage, using tuning forks in healing, and deepening her knowledge of TCM.
Since her first years with Spica, Gretchen has rarely lived without a dog in her life. Today she shares her home with the Three Amigos — Dezi, an elderly Schnauzer/Terrier mix; Rubin, a middle-aged Labradoodle; and Oscar, a young terrier mix rescued from the streets of Costa Rica.  After leaving her teaching career, Gretchen has never looked back knowing that she's happiest helping dogs achieve wellness through regular exercise, therapeutic massage, swim therapy, and acupressure. She's thrilled to be a part of the Splash Dog team and can hardly wait to work with YOUR dog in the pool.