Our goal is to increase our canine friends quality of life by providing a variety of beneficial options. Sessions take place by appointment, in a safe and comforting environment where every soul that enters SplashDog's door will be treated with dignity and respect.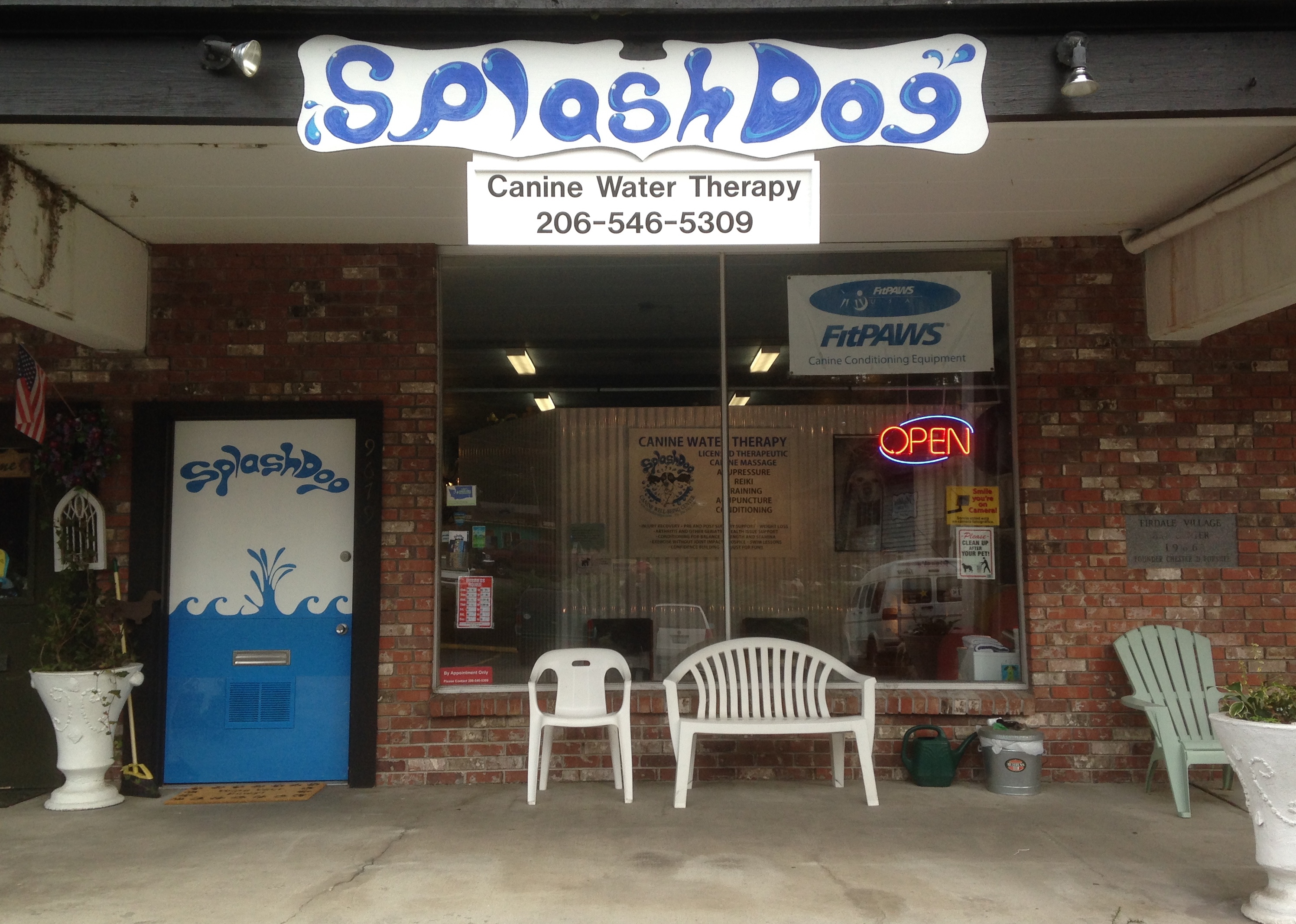 !!!!!!!!!!!!!!!!!!!!!!!!!!!!!!!!!!!!!!!!!!!!!!!!!!!!!!!!!!!!!!!!!!!!!!!!!!!!!!!!!!!!!!!!!!!!!!!!!!!!!!!!!!!!!!!!!!!!!!!!
 Bobbie Lyons K9 Conditioning Classes
Coming To
SplashDog Canine Well-Being Center
Bobbie Lyons, Cert. C.F., one of the team of FitPAWS® Master Trainer Program, and innovator of canine conditioning with FitPAWS® equipment comes to SplashDog for 2 full days of classes.  These classes (described below) will help you help your dog.  Not only is Bobbie an expert at using the equipment for the highest benefit to any type of dog, but she is also a wonderful teacher.  In my experience, being in Bobbie's classes has been extremely informative, interactive, confidence building (for me and the dogs) and fun.
If you have even the slightest interest in learning how to safely and effectively use FitPAWS® equipment and you want to learn more about canine body conditioning you need to take advantage of this opportunity.  Bobbie travels throughout the year in the U.S. and abroad teaching, expanding her knowledge base and consulting.  We are very fortunate to have her booked for the classes at SplashDog and are excited to introduce you to her.
-Beginner K9 Conditioning
Saturday, June 4th, 9:00am-1:30pm
In this workshop, participants will be introduced to equipment, exercises, tricks and stretches that increase range of motion, flexibility, reflexes, and improve muscle tone and endurance. The exercises are designed to reduce the risk of injury and increase balance, core strength, body awareness and overall performance. Dogs of all ages/experience levels.
-K9 Conditioning for Senior Dogs & Puppies
Saturday, June 4th, 2:00pm-6:00pm
In this workshop, participants will be introduced to exercises similar to those in the regular K9 Conditioning workshop, but the content will focus on exercises assisting canine companions as they age, as well as exercises for puppies whose joints and muscles are still developing.
-Equipment Combos, Evaluation & Plan Design
Sunday, June 5th, 9:00am-1:30pm
This workshop will cover equipment combination, program design and advanced exercises.  Proper dog posture, handler position and reward position for maximum muscle engagement will be covered.   It is suggested that the beginner workshop is taken as a pre-requisite as the foundation exercises and behaviors will not be covered in this workshop.
-Private or shared Sessions
Sunday, June 5th, 2:00pm-6:00pm
Private session participants receive a basic evaluation of their dog and a beginner workout designed for them and the equipment they have. Includes post-session follow up, detailed explanation of exercises with video support where available, etc.
Beginner K9 Conditioning:
Sat., 6/4, 9:00am-1:30pm
$150 single class   $125 – *2 class discount
K9 Conditioning for Senior Dogs & Puppies:
Sat., 6/4, 2:00pm-6:00pm
$150 single class   $125 – *2 class discount
Equipment combos, Evaluation & Plan Design:
Sun., 6/5, 9:00am-1:00pm
$150 single class   $125 – *2 class discount
Private or Shared Session $100 for 55 minutes
Sun., 6/5 – 2pm / 3pm / 4pm
*Choose 2 classes and receive a $25 discount on each
————————————————
50% deposit required to register. Remaining balance due
by May 28th, 2016
Mail payments to: SplashDog Canine Well-Being Center,
9679 Firdale Avenue, Edmonds, WA 98020
or call 206-546-5309 for credit card payments
!!!!!!!!!!!!!!!!!!!!!!!!!!!!!!!!!!!!!!!!!!!!!!!!!!!!!!!!!!!!!!!!!!!!!!!!!!!!!!!!!!!!!!!!!!!!!!!!!!!!!!!!!!!!!!!!!!!!!!!!
INTRODUCTION TO
CANINE MASSAGE CLASS
FOR THE HEALTH AND WELL-BEING OF YOUR DOG
 If you have ever had massage therapy to reduce your stress, chronic or acute pain, or for rehabilitation from an injury you know what massage can do to help. our canine companions benefit in the same way.
This class teaches you professional techniques that you can use to help keep your dog feeling their best. There are many benefits from massage including increased circulation that can help heal injuries faster and keep muscle in good shape, as well as helping to decrease the rehabilitation time After an injury or surgical procedure. massage can help reduce scar tissue and muscle atrophy and has many other benefits for active dogs, sedentary dogs, aging dogs and anxious dogs.
Class includes lots of hands-on instruction and handouts for reference. Taught by J Linn Black Henline, LMP, SAMP, Reiki MT, FP-MT, canine water therapist.
Sunday, May 15th, 10:00am-1:00pm
$40 per person/dog, $65 for 2 people sharing one dog
payment/registration due in advance – class size limited
 contact splashdog at info@splashdogspa.com or call 206-546-5309 to register
***********************************************************************************
Our Services:
Water Therapy Session – A licensed and certified Small Animal Massage Practitioner (SAMP) will consult with you, and in some cases your veterinarian, to create a comprehensive water therapy program to address your dog's particular needs.
Assisted Swim Session – A trained swim assistant will work in the pool with your dog providing optimal exercise through a swimming routine specifically designed for your dog's over-all physical well-being.
Self Swim – After an hour of instruction by a staff member, you can share the pool with your pup for fun, exercise and bonding.
Benefits of warm water therapy and swimming:
• Increases mobility
• Builds muscle
• Increases range of motion
• Builds endurance
• Increases flexibility
• Increases balance
• Increases comfort and quality of life
Massage – Our licensed Small Animal Massage Practitioners (SAMP's) perform therapeutic massage for dogs that may not be suited for water therapy due to illness, anxiety or other health concerns. Your dog is literally in good hands with our Practitioners who have been practicing professionally for years and have continued to study in many areas of canine health and well-being.
Benefits of massage:
• Reduces pain
• Improves circulation
• Enhances health of skin and coat
• Reduces anxiety
• Increases joint flexibility
• Increases self-awareness
• Promotes deeper breathing
Canine Conditioning Sessions – Using special physio-equipment designed especially for dogs our licensed SAMP implements a specific exercise plan for each individual dog based on the type of physical conditioning is needed for their optimal health, strength and mobility.  Balance work on the equipment helps work all muscle groups and increase strength and confidence with very low joint impact.  Most all dogs can benefit and most enjoy their workouts because they are fun!
Benefits of conditioning:
• Improves balance and core strength
• Increases self confidence
• Reduces potential of injury from normal activities
• Increases joint flexibility
• Increases self-awareness
• Increases mental stimulation
Hospice Swims – Dogs that have enjoyed swimming in their lifetime and are in their final stage of life can find comfort and happiness returning to the water in a warm, calm environment.  We allow their family member(s) to be with them to be close physically and emotionally.  We have a variety of floatation equipment and accessories to help them feel secure and comfortable while in the pool.
Swim Lessons – Not all dogs are natural swimmers even if their breed would indicate that they would be.  Some dogs have confidence issues or body awareness issues that can prevent them from swimming well.  When a dog is not swimming properly they can be in danger of drowning, just as a human would be.  We have taught a wide variety of dogs to swim well and more confidently.  Puppies, adults, fearful, whatever the reason, we will do our very best to help your dog become a good swimmer.
Canine Gym – Our 800+ square foot indoor gym is available for private bookings.  Up to 3 dogs that are friends or family can use the gym at the same time, or indulge your pup in a private, one-on-one session.  You may use equipment and toys we supply or bring your own.
Acupuncture – Cynthia Glover, DVM, MS comes to SplashDog two days a week performing Acupuncture.  Please visit her website and contact her directly for more information about her services or to book an appointment with her. http://vet.lunarpoodle.com
Training Classes -Sarah Nicol, Naturally Driven K9 LLC, available Tuesday's and Thursday's to help you with issues you may need help with or just expanding on training you have already been through.  Our trainers are here to help with most any issue you are concerned about.  Contact Sarah directly or us for more information or a consultation.  http://naturallydrivenk9.com
Educational Seminars and Classes –  SplashDog is partnering with a variety of professionals in the pet world to bring you the information and training you can use throughout the life of your companion animals.  Check our calendar for upcoming events.  We invite you to email us with ideas regarding the type of class or speaker you would be interested in us hosting.
Hope to see you at SplashDog Canine Well-Being Center soon! 
**SplashDog is not a Veterinary clinic and does not perform Veterinary care. Please talk with your Vet regarding the health of your dog and whether water therapy and other services provided are safe for your dog.

Handicappedpets.com is a company that caters to the special needs of dogs that have physical challenges.  They stock a wide variety of equipment and accessories.  SplashDog has partnered with Handidappedpets.com to help our clients and others find the help they need to promote emotional, physical well-being and also reduce some of the burden of caring for a handicapped pet.
Please click on the banner above to visit the Handidappedpets.com website.