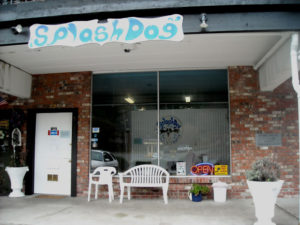 Our goal is to increase our canine friends quality of life by providing a variety of beneficial options. Sessions take place by appointment, in a safe and comforting environment where every soul that enters SplashDog's door will be treated with dignity and respect.
OFFERING:
Water Therapy Session – a licensed and certified Small Animal Massage Practitioner (SAMP) will consult with you, and in many cases your veterinarian, to create a comprehensive water therapy program to address your dog's particular needs.
Assisted Swim Session – A trained swim assistant will work in the pool with your dog providing optimal exercise through swimming.
Self Swim - after an hour of instruction by a staff member, you can share the pool with your pup for fun, exercise and health.
Benefits of warm water therapy and swimming:
• Increases mobility
• Builds muscle
• Increases range of motion
• Builds endurance
• Increases flexibility
• Increases balance
• Increases comfort and quality of life
Massage – Our licensed Small Animal Massage Practitioners (SAMP's) perform therapeutic massage for dogs that may not be suited for water therapy due to illness, anxiety or other health concerns. Your dog is literally in good hands with our Practitioners who have been practicing professionally for more than 8 years each and have continued to study in many areas of canine health and well-being.
Benefits of massage:
• Reduces pain
• Improves circulation
• Enhances health of skin and coat
• Reduces anxiety
• Increases joint flexibility
• Increases self-awareness
• Promotes deeper breathing
Laser Therapy – Therapy lasers have been used to treat post-surgical pain and many acute and chronic conditions and have been scientifically proven to be successful. With the guidance of our consulting Veterinarian our SAMP's have the ability to perform laser therapy sessions.
Benetits of laser therapy:
• Pain Relief
• Post-Surgical Healing
• Reduction of Inflammation
• Reduced healing time for Sprains, Strains & Fractures
• Hip Dysplasia relief
• Tendonitis and ligament healing
• Arthritis relief