Look for all of our beautiful Dog of the Month winners (and all of our entrants) on our 2016 SplashDog calendar coming soon!
---
Our goal is to increase our canine friends quality of life by providing a variety of beneficial options. Sessions take place by appointment, in a safe and comforting environment where every soul that enters SplashDog's door will be treated
with dignity and respect.
SplashDog's Gym 
NOW OPEN!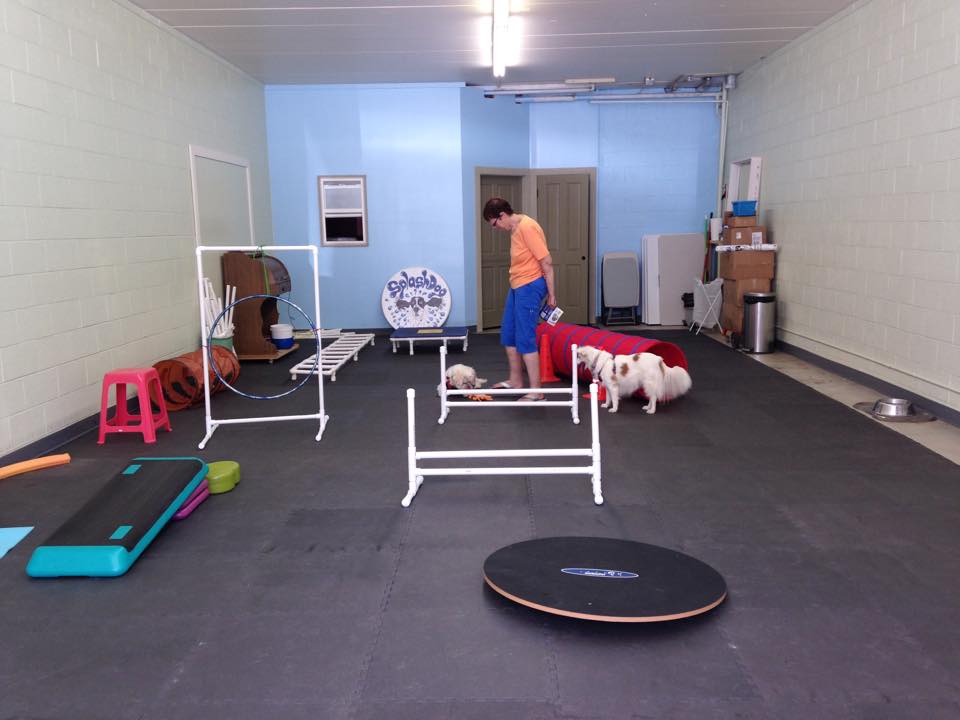 Our gym is available for private play sessions where you can play with your dog (up to 3 dogs that get along very well per session) using our equipment, or bring your own favorite toy.  We have nearly 900 sq. ft. for you to safely play with and work your dog without distraction from other people or dogs.  We also offer assisted sessions with our Coaches who will work your dogs for you either playing or doing body conditioning work with FitPAWS® canine conditioning equipment.  Our FitPAWS® Coaches are trained by FitPAWS® USA in safe evaluation, and use of equipment to get the most beneficial results for your dogs individual needs.
Contact SplashDog for more information about sessions in our Canine Gym.
We have also added a new private treatment room for Canine Massage and Acupuncture sessions.  Dr. Glover, a Certified Veterinary Acupuncturist is available Tuesday and Friday mornings and our Licensed Small Animal Massage Therapists are available during our normal business hours to help your dog feel their best by relieving pain, increasing mobility and reducing stress.  Both massage therapy and acupuncture are great compliments to any other therapies your dog may be receiving or as stand alone therapies.
Training classes are available Tuesday's and Thursday's to help you with issues you may need help with or just expanding on training you have already been through.  Our trainers are here to help with most any issue you are concerned about.  Contact us for more information or a consultation.
Coming soon, educational seminars and classes.  SplashDog is partnering with a variety of professionals in the pet world to bring you the information and training you can use throughout the life of your canine companion.  Check our calendar for upcoming events.  We invite you to email us with ideas regarding the type of class or speaker you would be interested in us hosting.
Hope to see you at SplashDog Canine Well Being Center soon! 
Our Services:
Water Therapy Session – a licensed and certified Small Animal Massage Practitioner (SAMP) will consult with you, and in many cases your veterinarian, to create a comprehensive water therapy program to address your dog's particular needs.
Assisted Swim Session – A trained swim assistant will work in the pool with your dog providing optimal exercise through swimming.
Self Swim – after an hour of instruction by a staff member, you can share the pool with your pup for fun, exercise and health.
Benefits of warm water therapy and swimming:
• Increases mobility
• Builds muscle
• Increases range of motion
• Builds endurance
• Increases flexibility
• Increases balance
• Increases comfort and quality of life
Massage – Our licensed Small Animal Massage Practitioners (SAMP's) perform therapeutic massage for dogs that may not be suited for water therapy due to illness, anxiety or other health concerns. Your dog is literally in good hands with our Practitioners who have been practicing professionally for more than 8 years each and have continued to study in many areas of canine health and well-being.
Benefits of massage:
• Reduces pain
• Improves circulation
• Enhances health of skin and coat
• Reduces anxiety
• Increases joint flexibility
• Increases self-awareness
• Promotes deeper breathing
Canine Conditioning Sessions – Using special physio-equipment designed especially for dogs our licensed SAMP implements a specific exercise plan for each individual dog based on the type of physical conditioning is needed for their optimal health, strength and mobility.  Balance work on the equipment helps work all muscle groups and increase strength and confidence with very low joint impact.  Most all dogs can benefit and most enjoy their workouts because they are fun!
Other Services –
Hospice Swims – Dogs that have enjoyed swimming in their lifetime and are in their final stage of life can find comfort and happiness returning to the water in a warm, calm environment.  We allow their family member(s) to be with them to be close physically and emotionally.  We have a variety of floatation equipment and accessories to help them feel secure and comfortable while in the pool.
Swim Lessons – Not all dogs are natural swimmers even if their breed would indicate that they would be.  Some dogs have confidence issues or body awareness issues that can prevent them from swimming well.  When a dog is not swimming properly they can be in danger of drowning, just as a human would be.  We have taught a wide variety of dogs to swim well and more confidently.  Puppies, adults, fearful, whatever the reason, we will do our very best to help your dog become a good swimmer.
Acupuncture – Cynthia Glover, DVM, MS comes to SplashDog one day a week and practices Acupuncture.  Please visit her website and contact her directly for more information about her services or to book an appointment with her.  http://vet.lunarpoodle.com/LP_vet/In-Home_Vet_Services.html